Salon Policies
***For Safety reasons children are not permitted in the salon without adult supervision***
We accept Discover, MasterCard, Visa and American Express
We do not accept Checks
Gratuities can be cash to your stylist or credit card through our Tippy Kiosk.
We understand that special circumstances are unavoidable and a cancellation may be necessary. If you find yourself unable to keep your appointment, we request at least 48 hours notice. All cancellations must be done by phone call/voicemail at 610-792-7294 to Velvet Luxe Salon, LLC. Cancellations through private email or social media will not be valid as these can go to spam boxes and not be seen. Clients who do not honor their appointments may be charged a cancellation fee as follows:
Please give 48Hrs notice when cancelling an appointment so we can fill the appointment. Failure to cancel before 24Hrs will result in automatic NON-REFUNDABLE charge of 50% of service.
We guarantee our work 100%. If you are unhappy in any way please schedule a complimentary follow-up appointment within one week of original service.
We also guarantee you will love our products. However, should you purchase the wrong product for you we refund you 100% with your original receipt. Should you have lost your receipt that is okay! We can give you 100% of the cost in Velvet Luxe Credit to use towards a New product or any service.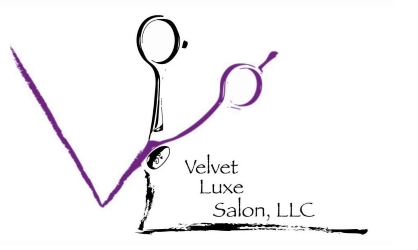 Salon Hours
Monday        Closed
Tuesday        1 PM - 9 PM
Wednesday  10 AM - 9 PM
Thursday      10 AM - 9 PM
Friday           10 AM - 6 PM
Saturday      9 AM - 4 PM
Sunday         Closed